"The ordinary man is demanding of others. The exceptional man is demanding of himself."
Marcus Aurelius.
"Made in Pays de Langres"
This local certification promotes local businesses and guarantees the proper origin of craft and artistic products from the Pays de Langres.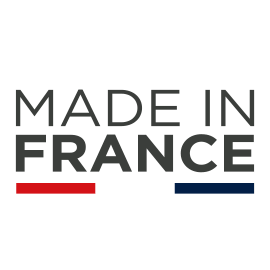 "Made in France"
"Made in France" attests that the product has acquired its essential features in France. Not to be confused with the "Origine France Garantie" label, which certifies that the majority of the work on the product and its essential elements was carried out in France.
"Origine France Garantie"
La Fabrique Martinelli is one of the only companies in France to have obtained this label for its kitchens, bathrooms, open wardrobes and furniture. We are very proud of it. Stricter than "Made in France", this label certifies that our creations for you are truly of French make.
OFG identification number: FCBA 1810100
"Artisan" label
Paired with a nationally-recognised, well-established and protected logo, the "Label Artisan" attests to the craftsmanship of the product and how long the company has been active in the field. Strictly controlled, it guarantees product qualification and identification in France's national Directory of Crafts Companies.
PEFC-certified
Our commitment to the environment and our respect for the forest lead us to be strict and vigilant about the raw materials we use. This label stands for a reasoned and rational management of forest resources.
With the Martinelli workshops you are certain to get a service tailored to your requirements.
Commitment No.1
---
A Martinelli creation is always handmade under the direction of a medal-winning master craftsman.
Every Martinelli creation is made in, and only in, our workshops. There is no "assembly line" work and the supervision of the project is entrusted to a single project manager who must have at least 20 years of experience.
Commitment No.2
---
Martinelli creations all have earned the "Origine France Garantie" label
All our kitchen, bathroom, dressing room and furniture creations are labelled "Origine France Garantie". Not to be confused with "Made in France", or "Fabriqué en France" in French, this much stricter label guarantees real control over the origin of materials and the production site of the essential elements.
Commitment No.3
---
A Martinelli creation is always made to measure, produced exclusively for you
No "range", no "assembly line" and no "mass production". Your Martinelli creation is designed at your request. You won't see it anywhere else.
Commitment No.4
---
A consultant team and an experienced creator at your service
Your ideas and desires are not considered as constraints. For all your technical and creative challenges, we provide you with an experienced creator and a consultant team. Be yourself; we'll take care of the rest.
Commitment No.5
---
No limits on colour
Do you want to break the mould? Do you want to create a colour that matches your personality? With Martinelli, it is possible. We don't require you to keep to a catalogue. If you wish, our in-house paint specialist can design a bespoke palette so that you can pick a colour that was created for you.
After Sale
Service
Even after your Martinelli creation has been installed, we are always available for any questions you may have.
For maintenance, modification or improvement of your project over time, we remain at your disposal in person or by telephone. In addition, your plans are kept on file indefinitely. For all unforeseen circumstances, we can always manufacture the part you need. In all cases, you are always welcome.
Garanties
Parce que nous travaillons avec une forte exigence de qualité, nous sommes en mesure de nous engager avec vous sur la durée.
20 ANS de garantie sur les meubles
– 25 ANS de garantie sur les tiroirs et charnières
– 10 ANS de garantie sur les façades
– 5 ANS de garantie sur la plomberie
– 5 ANS de garantie sur les plans de travail
– Jusqu'à 10 ANS de garantie sur les éviers
– Jusqu'à 10 ANS de garantie sur les tables et chaises
For household appliances, hardware and sanitaryware, we always work with market leaders, following our strict criteria of quality and innovation.